Let's start things off with Brendan, shall we:)
Thank you for all the prayers, they were answered and we got a clean bill of health on Thursday! I am 25 weeks this week!! 25! It is going by so fast. I HAVE to post a picture soon of my belly. I know. This week I have been full of energy and have been getting lots of things done around the house. I want to connect my energy boost in a prenatal workout video I have been doing. It's called Erin O'Brien's Prenatal Fitness Fix. I LOVE it. She also includes a video with a postnatal workout...
Look at this little guy's foot!
Things I have done this week:
Okay, well I really didn't do this but I watched as we had our ugly wood garden wall knocked down and replaced by this new and improved stone wall.
I organized all my crafts and made a little section of the house for all my crafty work.
We went to see Wolverine. Which I really didn't have high hopes for. I was like Xmen...really J. I didn't put up that big of a whine because at the very least I get to see Hugh Jackman with his shirt off. Bonus: Ryan Reynolds - not too bad either. BUT it was a pretty good movie. I was entertained by it anyway:)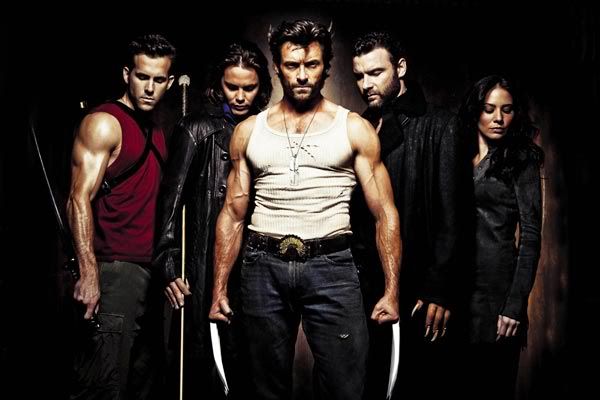 I went and bought Dance Dance Revolution (DDR) for xbox this week. I wanted to try it out. For those of you who are not fimilar with DDR it's a game with a dance pad. Arrows come on the screen and you have to match the arrows in sequence...like your dancing. It looks like this: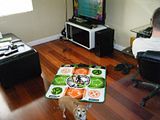 So...J and I decided to have a dance off. P.s. I'm alot better at this game then he is. WHOOHOO. A game I can beat J in. (okay...he will argue the fact that he is better at ONE song than I am...the song you ask...Gloria Estefan's Conga. lol. )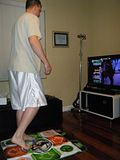 Oh...look a bonus. A little shot of the belly.
Now for Brendan's room!! Here are the pics of Brendan's little room. It's not finished but it's started. I think you can click the pictures to see bigger versions.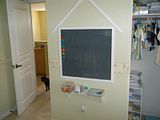 Cute huh. :) I am now going to leave you with a cute shot of Rogue. Sometimes, she can be so peaceful and cute...usually when asleep.